NNL East 22 -- Show Results
NNL East - Official Press Release
The Tri-State Scale Model Car Club is proud to announce the results of NNL East 22, April 12, 2008 in Wayne, New Jersey. We would like to thank our sponsors, vendors and participants who made our first year in the new facility the best NNL East ever! Everyone came together in the great spirit of sharing the hobby to make NNL East 22 a great success! Thank you all for another great year!
The New Display Hall. 100 tables in 10,500 square feet
Models On Display: 1,734
Overall Attendance: 986
$1 for each attendee is donated to the International Model Car Builders Museum through our "Grow The Hobby" Fund.
| | | |
| --- | --- | --- |
| Danbury Mint T Altered | Danbury Mint Stock 1925 Model T | Danbury Mint California Kid |

Raffle to Benefit the Internationl Model Car Builders Museum $239
Many Thanks To: Danbury Mint For Sponsoring The Raffle
Winners:
Bob Seagraves
Rich Von Voros
Total Raised To Benefit The International Model Car Museum: $1225
---
NNL East 22 People's Choice Awards:
NNL East is not a contest. People's Choice Awards are chosen by popular vote ballot. The intent of an NNL event is to take the focus off of competition, creating an atmosphere of camaraderie and sharing of idea and techniques. Many great friendships start at NNL East!
---
The John Slivoski Award
Best In Show
1966 Volkswagon Touring -- Gary Kulchock
---
Show Theme "To A T"
100 Years of the Ford Model T
1923 Model T "Half Track" -- Mike Napoleon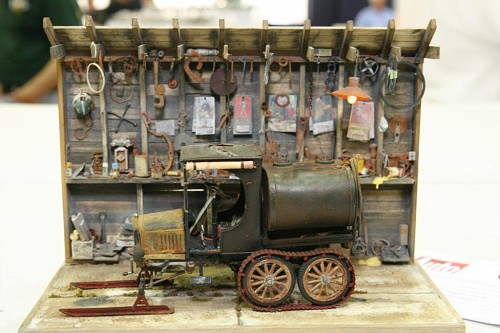 ---
Show Sub-Theme "Beetle-may-nee-aaa"
1966 Volkswagon Touring -- Gary Kulchock
---
Special Web Theme

Revell 1949 Mercury Custom Kit
1949 Mercury -- Marcos Cruz
---
Best Junior Award
James Dean Porsche 550 Spyder -- Patrick Lewis
---
Joe Cavorley Award
For The Model Joe Would Have Appreciated Most
1949 Ford Grain Truck -- Mike Randall
---
The Official NNL East Photo Album:
It's a virtual model car show! Nearly 2,000 photos from NNL East 22!
Click Here To Go To Photo Album
---
Fans And Friends NNL East Photo Albums:
Gary Kulchock's NNL East Album
Town of Newburgh MCC's NNL East Album
VW Dave Carnevalle's NNL East Album
Peter McDonald's NNL East Album
Warren Moffatt's NNL East Album
Mike Forrester's NNL East Album
Francois Spenard's NNL East Album
If you'd like your album included, please email us the link at nnleast2008@aol.com
---
Thank You To Everyone Who Made NNL East 22 Great!