NNL East 21-- Show Results
NNL East - Official Press Release
The Tri-State Scale Model Car Club is proud to announce the results of NNL East 21, March 24, 2007 in Parsippany, New Jersey. We would like to thank our sponsors, vendors and participants. Everyone came together in the great spirit of sharing the hobby to make NNL East 21 a great success! Thank you all for another great year!
Models On Display: 1,458
Overall Attendance: 1,266
$1 for each attendee is donated to the International Model Car Builders Museum through our "Grow The Hobby" Fund.

Raffle to Benefit the Internationl Model Car Builders Museum $273
Thanks To: George Bojaciuk
Winner:
Brendan Gourley, from Shelton Ct.
1:6 Scale Edelbrock Edition Ford Flathead Engine
Total Raised To Benefit The International Model Car Museum: $1539
---
NNL East 21 People's Choice Awards:
NNL East is not a contest. People's Choice Awards are chosen by popular vote ballot. The intent of an NNL event is to take the focus off of competition, creating an atmosphere of camaraderie and sharing of idea and techniques. Many great friendships start at NNL East!
---
The John Slivoski Award
Best In Show
1932 Ford "Hilltop Motors" Diorama -- Joe Yuran, Hermitage, PA
---
Show Theme "Deuces Wild"
The 75th Anniversary of the Model A Ford
1932 Highboy -- Nick Sandone, Wenonah, New Jersey
---
Show Sub-Theme "Lucky 7s"
Seagrave Ladder Truck -- Charles Rowley, West Wareham, Massachussetts

Tom Kren Photo

Tom Kren Photo

Tom Kren Photo

Tom Kren Photo
---
Special Web Theme

Revell / Model King '53/'54 Chevy Gasser Kits
1954 Chevy Gasser -- Daniel Lynch, Quebec, Canada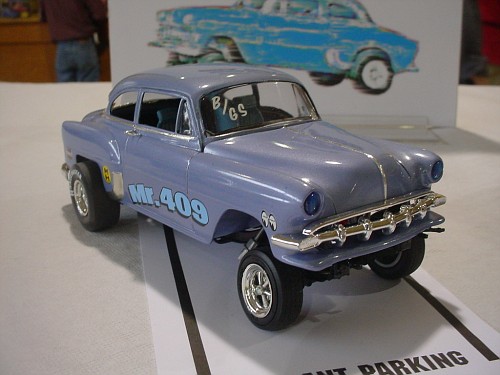 ---
Best Junior Award
1971 Plymouth Hemi Cuda -- John Baker, Glens Falls, New York
---
Joe Cavorley Award
For The Model Joe Would Have Appreciated Most
Ford Model T Moonshine Truck -- Dave Roehrle, Pennsylvania
---
The Official NNL East Photo Album:
It's a virtual model car show! Nearly 2,000 photos from NNL East 21!
Click Here To Go To Photo Album
---
Fans And Friends NNL East Photo Albums:
Billy Kingsley's NNL East Album
Gary Kulchock's NNL East Album
Matt At Empire Speed & Custom's NNL East Album
John McGinness's NNL East Album
VW Dave Carnevalle's NNL East Album
Dick Wessel (Weasel)'s NNL East Album
Francois Spenard's NNL East Album
Warren Moffatt's NNL East Album
---
Thank You To Everyone Who Made NNL East 21 Great!